GrowthPoint Technology Partners

is a technology investment bank providing financial and M&A advisory services.
M&A Advisory
It's not about just getting acquired. It's about a strategic outcome that reflects your true value.
Finding the right acquirer is a carefully managed process led by senior professionals that have completed hundreds of transactions. GrowthPoint has completed transactions with virtually all of the major technology companies and has client relationships that span the globe. Our uniqueness is the depth of our technology expertise and curiosity. It is what makes us so successful at achieving exceptional outcomes for emerging and established technology companies. Being headquartered in San Francisco puts us in the center of a lot of exciting, aspirational interactions. Let us work with you to see how we can find the best strategic outcome for your company.
Capital Raises
Money does not solve all problems and yet not having the capital you need at a critical growth point can cripple your company.
When incremental capital becomes necessary, it may be too late to find it, or, the markets may have shifted such that what you thought was available is not so available any more. We understand how businesses grow. We know how to look at projections and cost assumptions and help sort out when is the right time to seek capital. We know the investors and strategic partners you want to know – the ones that will be interested in learning about your company. Successful capital raising is not about just getting the meeting. It is making sure you are prepared, that the presentation addresses the right topics and that the data room is set up properly. We work as a team with you to think through all the key issues. We understand that while you may be able to do much of this yourself, you want to focus on running and growing your company. We help you raise the capital you need, faster, while you focus on running the company and delivering on your planned growth.
Strategic Advisory
Think of us as your trusted partner, who shares your passion for the company and the technology you have created.
Although it is difficult, we see talented teams build successful companies time and time again. As investors, inventors, entrepreneurs, founders and board members, we live in this world — where we are constantly addressing, first-hand, the challenges faced by fast growing companies. GrowthPoint, as your partner, is there to help you solve issues such as determining the right capital structure, when to raise funds, how strategic acquisitions and strategic partnerships might help to drive growth, and being there to help provide the right introductions and expertise to ensure you achieve your strategic goals.
Expertise & Experience
GrowthPoint Technology Partners provides M&A and financial advisory services to technology companies around the world. We have the depth of expertise acquired from hundreds of completed transactions and we recognize that what matters is getting you the best deal, not just getting the transaction completed. As former CEOs, founders, inventors, venture capitalists and advisors, we bring a wealth of strategic and financial experience to our clients with the sole objective of helping them achieve success.

GrowthPoint recently celebrated its 17th anniversary and we have enjoyed every day. It is energizing to see client technologies move from a concept to global deployment within a matter of years and knowing that we have helped to build the strategic relationships that encouraged or enabled that growth. Whether it is M&A, capital raising or strategic advisory services, we bring the same process expertise and focused commitment to every engagement. Getting the deal done is only the end result; what we do is all the important work leading up to that point. It is the understanding, the preparation, the connection, the trust.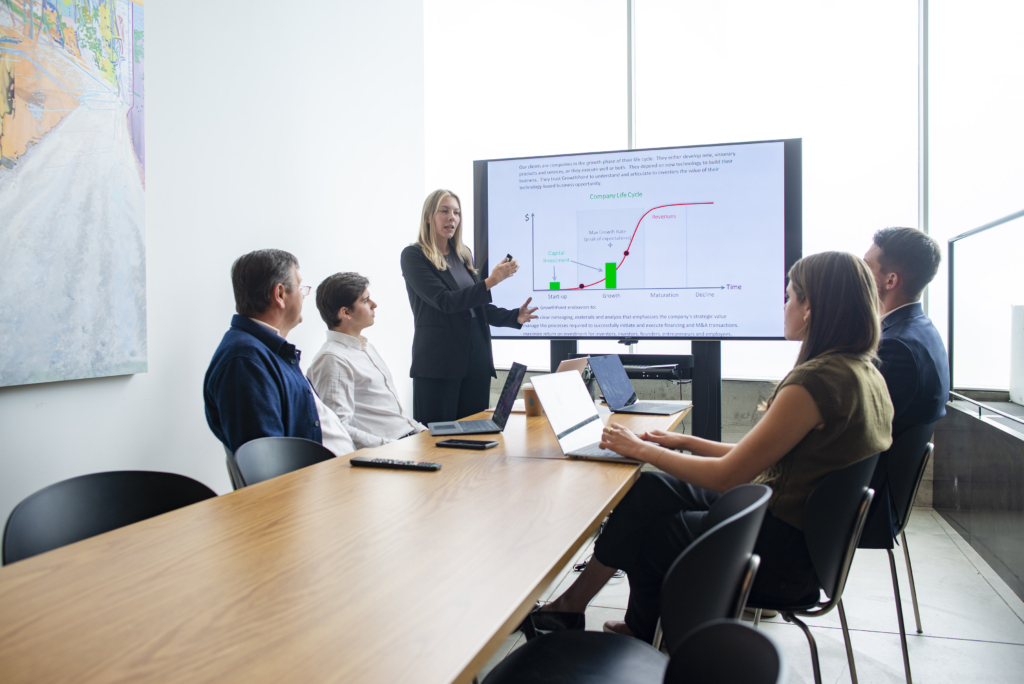 "Have people around you that you can have confidence in…I knew at that point it wasn't all about closing the deal."
Christian James, CTO, Xcentric
"Find somebody who you feel you can trust, work well with, and can be in very close connection with for a long time."
Aurangzeb Khan, CEO, Altia Systems
Our Partners