Wolfson Extends its Mixed-Signal Audio Leadership with the Acquisition of World Class Acoustic Technology – Enabling Exciting New User Experiences for Consumer Electronic Devices
Wolfson Microelectronics plc ("Wolfson" or "the Company"), a leading supplier of mixed-signal semiconductors for consumer electronic products, announces today that it has acquired Sonaptic Limited for an initial consideration of $24.8m.
Sonaptic Limited ("Sonaptic") is a world leading provider of advanced micro-acoustic technologies based on more than 12 years of research by Sonaptic's founders. The acquisition will provide the third part of Wolfson's AudioPlus™ growth strategy which is aimed at building on Wolfson's world class position in high fidelity audio semiconductors. The acquisition will enable Wolfson to combine mixed-signal design and acoustic skills to offer advanced active noise cancellation, sound enhancement, 3D sound, and acoustic echo cancellation in combination with its existing high quality, low power audio products for consumer electronic applications. These include Personal Media Players (PMP), mobile handsets, portable gaming consoles, Flat Pannel TVs (FPTV), Portable Navigation Devices (PND) and automotive applications.
AudioPlus™ Strategy and reasons for the acquisition
The Wolfson brand is known for high fidelity audio quality and performance and the Company's ultra high performance flagship products are employed by the world's leading high-end Hi-Fi manufacturers. Bringing this same leadership audio capability to portable and consumer devices makes Wolfson a supplier of choice for many of the world's tier 1 consumer Original Equipment Manufacturers (OEMs).
Building upon this audio foundation, Wolfson has developed its AudioPlus™ growth strategy. Adding incremental mixed-signal products that comprise key elements of the audio signal chain, the Wolfson strategy enables new or improved end user experiences and more highly optimized – lower cost solutions.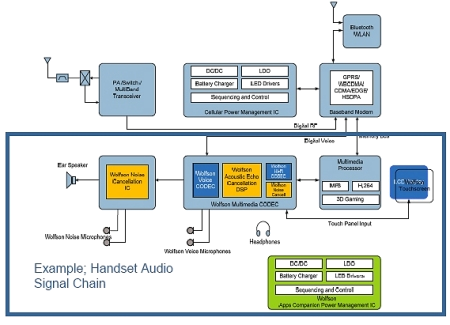 The first phase of Wolfson's growth strategy, the AudioPlus™ Power Management product, will enter the market place in Q4 2007. The second phase of the growth strategy is AudioPlus™ MEMS technology for silicon microphone products, spearheaded by the acquisition of Oligon in January. Products are expected to enter the market place in 2008.
Today the third phase is enabled through the acquisition of Sonaptic, adding acoustic technology to the Wolfson AudioPlus™ strategy. Wolfson expects the first new products to be ready by the middle of 2008 with revenues being generated from end 2H 2008. Sonaptic acoustic technology will be added as a feature to some of Wolfson's existing products and will enable completely new chips providing dedicated functions such as noise cancellation.
It is anticipated the acquisition will be accretive, after amortisation, from 2009.
Sonaptic technologies have a high degree of synergy across all of Wolfson's focus application markets and enable exciting new end user experiences which will further help differentiate Wolfson's customers' devices.
Key application segments for Sonaptic technology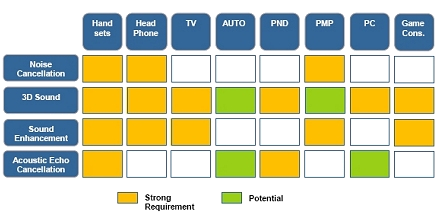 Noise Cancellation: Active noise cancellation technology providing ambient noise reduction to improve the audio intelligibility

3D Sound: Providing surround sound effects and audio improvements. 'I'm in the middle of the action on-screen, in the front row of the concert, wherever I happen to be'

Sound Enhancement: Best in class audio for music

Acoustic Echo Cancellation: Removing the voice echo created by room or car reflection
The terms of the transaction
Under the terms of the agreement, Wolfson will pay an immediate consideration with a value of $24.8 million, payable in cash and shares of Wolfson. The cash element of $24.3 million will be funded from the Company's cash balances and the issue of 72,554 new Wolfson shares.
Further consideration of up to $16 million may be payable in cash or loan notes to the shareholders of Sonaptic subject to the successful delivery of certain milestones relating to achieving business traction in the marketplace.
The principal shareholders of Sonaptic include the four founders, Mr David Monteith, Dr Alastair Sibbald, Mr Richard Clemow and Dr Robert Alcock. Other shareholders include Pentech Ventures, based in Scotland, and one of the UK's leading early stage technology venture funds, who backed Sonaptic from its inception. Motorola Ventures, the strategic venture capital arm of Motorola, Inc. (NYSE:MOT), headquartered in Schaumburg, Illinois, and ROHM, largest electronic components manufacturer based in Kyoto, Japan were also investors in Sonaptic.
Information on Sonaptic
Headquartered in High Wycombe, UK, Sonaptic has three overseas subsidiaries one in each of the USA, Japan and Korea. It has 31 employees, including 21 engineers who are all expected to remain with the company going forward. The four founders will remain with Wolfson following the acquisition and are committed and incentivised to help commercialize on the technology going forward.
For the year ended 31 December 2006, Sonaptic's loss before tax was $0.9 million on revenues of $4.4 million. At completion the gross assets of Sonaptic are expected to be approximately $3.3 million.
Sonaptic has built a portfolio of IP in their core areas, with 12 priority patent applications. It has an existing revenue stream and customer base, licensing technology IP to leading manufacturers of mobile phones, game consoles and mobile audio products.
Commenting on this significant expansion of its core product, Wolfson Microelectronic's Chief Executive Dave Shrigley said: "Sonaptic's technology is of keen interest to several leading consumer electronics companies which are anxious to cooperate in developing the initial noise cancellation chip specifications. This acquisition substantially increases the size of our addressable market by increasing the number of ways Wolfson can contribute to the audio differentiation of our customers' products.
The team gathered by Mr Monteith and his co-founders are highly skilled and we look forward to working with them in developing chips that will deliver the benefits of their acoustic technology to a broader set of customers."
Enquiries:
Wolfson Microelectronics
Dave Shrigley, CEO
0207 929 8989 on the day and 0131 272

Mark Cubitt, Finance Director
7000 thereafter
Corfin Communications
Harry Chathli, Neil Thapar
020 7929 8989