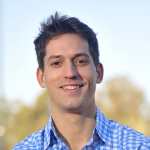 Palo Alto, CA – Alex Loukas, previously an Analyst at GrowthPoint, has been promoted to an Associate. Alex joined GrowthPoint over two years ago as an Analyst after leaving FanTravel.com, which he co-founded.
Prior to FanTravel.com, Alex graduated from Stanford University with a Bachelor's Degree in Science, Technology, and Society in 2010 and a Master's Degree in Media Studies in 2011. During his time at Stanford, Alex played quarterback and was a member of the football team which won the 2011 Orange Bowl.
Alex has proven to be a key contributor on many transactions at GrowthPoint during his time with us so far. We are pleased to have Alex as our new Associate.