By: Jake Kaldenbaugh
As enterprises accelerate their development lifecycles to remain competitive in their rapidly evolving competitive ecosystems, DevOps has become a top transformation priority driving growth and investment opportunities for startups. With that in mind, GrowthPoint is proud to announce the launch of the GrowthPoint DevOps Startup Landscape Map. We hope that industry participants will find this useful as a way to think about the numerous private companies that are attacking the problems of developers, IT Operations professionals and companies to create better software, faster. These are the companies pushing the application economy forward.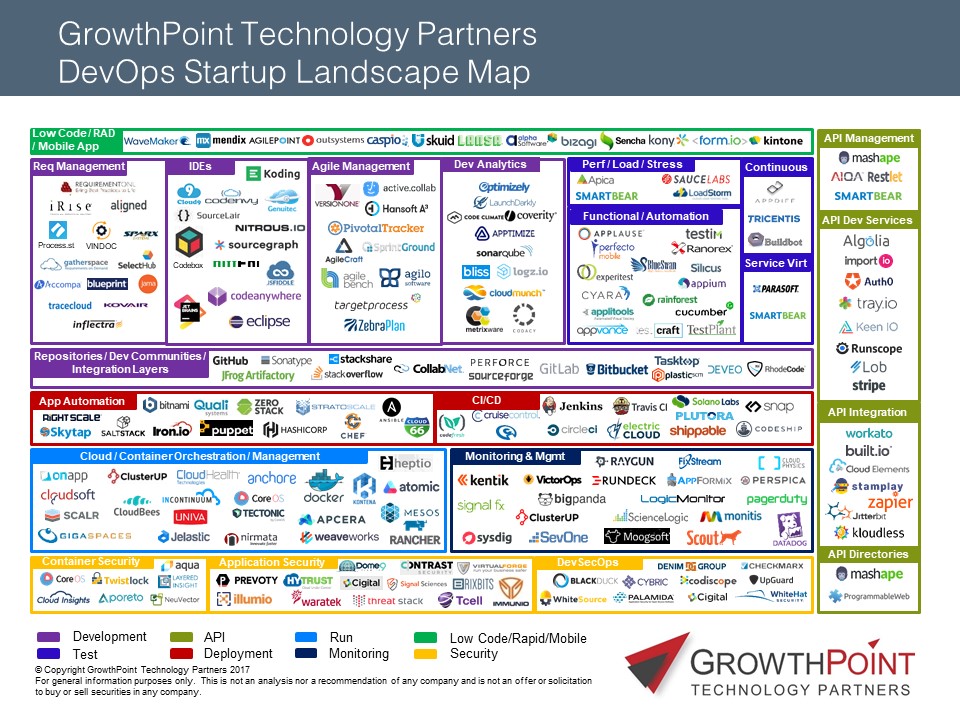 We believe that the DevOps market opportunity is compelling and that some set of the companies we have identified within will go on to be instrumental in the creation and replatforming of enterprise application development processes and associated underlying infrastructure. This is a representative landscape that is evolving quickly, and we understand that many companies have unique offerings and operate in multiple subsectors – we welcome feedback from any vendors listed or not. We have a more detailed presentation that strategically examines the market, investment trends and public acquirers which we are happy to discuss with sector participants and investors.
The map looks at the sector across the development lifecycle from "left to testing", and then progresses down into the underlying cloud and container-based infrastructure layers. We also undergird the entire map with a look at emerging security players in this space. Lastly we added the API stack players on the right as we believe they are crucial to the new development paradigm as they dramatically improve the application data integration paradigm.